Archives Research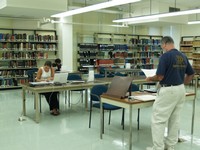 Researchers will find that working in an archives differs from working in a library. Records are arranged mostly by the agency, organization or individual that created them, rather than by subject. Descriptive inventories in the form of finding aids for government records and manuscript collections can help you navigate these records.
Indexes and catalogs for certain records, the library, photograph, maps and artifact collections are available in the Archives reference room.
Hawai'i State Archives Indexes to Marriages (1826-1929), Divorces (1848-1929), Naturalization (1844 to 1894), Denization (1846-1898), Passports (1845-1874), Probates (1848 to 1915) and Wills (1852-1915) have been digitized and are now available online through Alu Like's  Ulukau website.
Archives collections (maps, library, some photographs) and summary of finding aids are cataloged online.  To see the online catalog, click on "Library and Map Catalog" link on our home page under Research Our Records..
Some of the Hawai'i State Archives finding aids may be downloaded in its entirety in PDF form.  Adobe Reader is required for viewing finding aids.  Download Adobe Reader
Below is a list of finding aids available for download.
Photograph Collections
Photograph Collection Finding Aid
Aerial Photograph Collection Finding Aid
Government Collections
A | B | C | D | E | F | G | H | I | J | K | L | M
N | O | P | Q | R | S | T | U | V | W | X | Y | Z | Index
A
Accounting and General Services
Commission on Aging
Board of Commissioners of Agriculture & Forestry, 1903-1959
Agriculture, 1960-1980
Attorney General
B
Banana Claims Commission
Commission on Boundaries
Budget and Finance
Finance
Business, Economic Development and Tourism
C
Government Cemeteries, 1893-1967
Census Collection, 1840-1896
Charter Revision Commission of the City and County of Honolulu, 1937-1939
Office of Children and Youth, 1939-1996
Chinese Bureau, 1842-1902
Citizens Guard, 1893-1902
Office of Civilian Defense, 1940-1945
Collector General of Customs
Compilation Commission, Revised Laws of Hawaii 1955
Cook Sesquicentennial Commission, 1927-1931
Commerce and Consumer Affairs
Constitutional Convention, 1864
Constitutional Convention, 1894
*The 1894 Constitutional Convention records has been digitized and can be found here:
https://ags.hawaii.gov/archives/online-exhibitions/1894-constitutional-convention/
Constitutional Convention, 1950
Constitutional Convention, 1968
Constitutional Convention, 1978
E
F
Farm Loan Board
Fence Commission
Fire Claims Commission
Fleet Entertainment Commission
Foreign Office & Executive, 1790-1849
Foreign Office & Executive, 1850-1900
Foreign Office & Executive, Records of the Chamberlain
G
Genealogy of Hawaii Chiefs, Board of
Governor's Ad Hoc Commission on Operations, Revenues, and Expenditures (CORE)
Governor's Advisory Commission on Crime
Governor's Advisory Committee on Government Organization
Governor's Advisory Committee on Motor Vehicle Regulation and Taxation
Governor's Advisory Committee on Taxation
Governor's Advisory Committee on the Tourist Industry
Governor's Agriculture Coordinator's Office
Governor's Conference on the Year 2000
Governor's Coordinating Committee for the 1985 Japanese 100th Anniversary Celebration
Governor's Emergency Food Committee
Governor Sanford Ballard Dole, 1900-1903
Governor George Robert Carter, 1903-1907
Governor Walter Francis Frear, 1907-1913
Governor Lucius Eugene Pinkham, 1913-1918
Governor Charles James McCarthy, 1918-1921
Governor Wallace Rider Farrington, 1921-1929
Governor Lawrence MCCully Judd, 1929-1934
Governor Joseph Boyd Poindexter, 1934-1942
Governor Ingram Macklin Stainback, 1942-1951
Governor Oren Ethelbert Long, 1951-1953
Governor Samuel Wilder King, 1953-1957
Governor William Francis Quinn, 1957-1962
Governor John Anthony Burns, 1962-1974
Governor George Ryoichi Ariyoshi, [1963-] 1974-1986
Governor John David Waihee III, 1986-1994
Grants Survey Notes, 1846-1983, 1988
H
Harbor Commissioners, 1911-1949
Hawaii County Investigation Commission, 1905-1914
Hawaii Bicentennial Commission, 1970-1979
Hawaii Emergency Labor Commission, 1921-1923
Hawaii Equal Rights Commission, 1935-1947
Hawaii Legislative Commission, 1932-1933
Hawaii Rural Rehabilitation Corporation, 1934-1936
Hawaii State Commission on the Status of Women, 1971-1990
Hawaii Statehood Commission, 1947-1959
Hawaii Statehood Celebration Commission, 1959-1960
Hawaiian Home Lands, 1921-1997
Hawaiian Post Office, 1850-1905
Hawaiian Royal Orders, 1865-1893
Hawaiian Sovereignty Elections Council, 1993-1996
Health
Historical Commission, 1921-1932
Commission on Historical Sites, 1924-1960
Honolulu Charter Commission, 1956-1958
Honolulu Park Commission, 1896-1913
Honolulu Water Commission, 1915-1917
Honolulu Water Works, 1861-1905
Hospital Service Study Commission, 1945-1947
Department of Human Services, 1946-1980
I
Board of Industrial Schools, 1916-1939
Insanity Commission Proceedings, 1909-1910; 1917-1939
Department of Institutions, 1939-1958
Department of Interior, 1845-1900
Island Governors, 1838-1897
J
L
Department of Labor and Industrial Relations, 1915-1983
Department of Land and Natural Resources, 1846-1997
Land Applications, 1876-1886, 1938-1960
Land Study Bureau, 1957-1973
Legislative Reapportionment Commission [1973]
Legislative Reference Bureau, 1982-1996
Legislature
Commission on Legislative Salary, 1971-1978
Lieutenant Governor, 1840-1998
M
Military and Navy Department, 1844-1893
N
National Guard of Hawaii, 1893-1900
National Guard, 1900-1914; 1918
New York World's Fair Committee, 1961-1966
O
Commission on Organization of Government, 1975-1977
Okinawan 80th Anniversary Celebration Commission, 1979-1982
P
Pacific War Memorial Commission, 1949-1981
Panama Pacific International Exposition, 1911-1915
Police Records, 1844-1918
Population and the Hawaiian Future, 1970-1983
Board of Prison Inspectors, 1891-1905; Prison Inspectors, First Judicial Circuit, 1905-1906, 1927-1931
Private Ways and Water Rights, 1856-1887
Public Accountancy, 1924-1929
Board of Commissioners of Public Archives, 1905-1959
Department of Public Safety, 1851-1941
Public Works Records, 1845-1900
Q
Quasi-Judicial Executive Actions Records, 1856-1986
S
Salary Standardization Board, 1951-1953
School Fund Commission, 1909-1910
State Plan Policy Council, 1975-1991
Statuary Hall Commission, 1966-1970
Survey, Hawaiian Government, 1870-1915
T
Department of Taxation, 1847-1990
Tax Commission, 1907-1908
Territorial Food Commission, 1917-1918
Territorial Nutrition Committee, 1938-1948
Territorial Planning Board, 1938-1955
U
Unemployment Relief Records, 1931-1941
U.S. Department of Interior, Hawaiian Homes Commission Representative, 1936-1939
V
Vital Statistics Collection, 1826-1929
W
Waiakea Homestead Commission, 1925-1929
Water Commission of the Territory of Hawaii, 1915-1917
Y
Commission of the Year 2000, 1970-1981
Index
Index of Government Record Groups
Manuscript Collections
Alphabetical List
Numerical List
Congressional Collections
Manuscript Collections A
Manuscript Collections B
John A. Burns Papers
Manuscript Collections C
Manuscript Collections D
Sanford Ballard Dole Papers
Manuscript Collections E
Queen Emma Collection
Manuscript Collections F
Manuscript Collections G
Chant and Genealogy Book
Manuscript Collections H
Hawaiian Chants and Mele Manuscript Collection
Victor S. K. Houston Collection
Manuscript Collections I
Manuscript Collections J
Manuscript Collections K
Theodore Kelsey Collection
Samuel Wilder King Collection
Manuscript Collections L
Oren Ethelbert Long Papers
Manuscript Collections M
Manuscript Collections N
Manuscript Collections O
Manuscript Collections P
Manuscript Collections R
Manuscript Collections S
Manuscript Collections T
Manuscript Collections U
Manuscript Collections V
Manuscript Collections W
Manuscript Collections Y
Manuscript Collections Z
Administrative Rules governing the use of Public Archives describes current rules and procedures that must be followed when visiting Hawai'i State Archives.
For filming at the State Archives, as per our administrative rule section 3-20-5(d), "Due to limitations in space, not more than one user of video recording or photocopying equipment may be permitted at a time. Previous arrangement should be made." In addition to contacting the State Archives to set an appointment, any filming for the purpose of film, television and/or commercial use will need to secure a Film Permit from the Hawaii Film Office. Permits must be submitted five working days prior to date of filming. See https://filmoffice.hawaii.gov/news/film-permit-application/ for more information.