Archives Research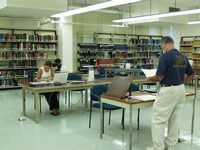 Researchers will find that working in an archives differs from working in a library. Records are arranged mostly by the agency, organization or individual that created them, rather than by subject. Descriptive inventories in the form of finding aids for government records and manuscript collections can help you navigate these records.
Indexes and catalogs for certain records, the library, photograph, maps and artifact collections are available in the Archives reference room.
Hawai'i State Archives Indexes to Marriages (1826-1929), Divorces (1848-1929), Naturalization (1844 to 1894), Denization (1846-1898), Passports (1845-1874), Probates (1848 to 1915) and Wills (1852-1915) have been digitized and are now available online through Alu Like's  Ulukau website.
Archives collections (maps, library, some photographs) and summary of finding aids are cataloged online.  To see the online catalog, click on "Library and Map Catalog" link on our home page under Research Our Records..
Some of the Hawai'i State Archives finding aids may be downloaded in its entirety in PDF form.  Adobe Reader is required for viewing finding aids.  Download Adobe Reader
Below is a list of finding aids available for download.
Accounting and General Services
Agriculture & Forestry
Budget and Finance
Business, Economic Development and Tourism
Census Collection, 1840-1896
Collector General of Customs
Commerce and Consumer Affairs
Education
Foreign Office & Executive, part 1
Foreign Office & Executive, part 2
Health
Legislature
Administrative Rules governing the use of Public Archives describes current rules and procedures that must be followed when visiting Hawai'i State Archives.