Hawai`i State Archives
Archives Announcements:
Hawaii State Archives Open House!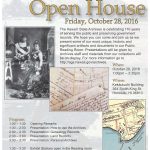 Posted on October 14, 2016
Due to the Open House event, we will be closed for public research from 12:00-4:00pm on Friday, October 28, 2016. The Open House will be open to the general public from 1:00-3:30pm. For more information, please click here.
October is American Archives Month. Learn more about American Archives Month and what the Hawaii State Archives is doing: http://ags.hawaii.gov/archives/archives-in-the-news/archives-month-2016
---
Job Opportunities at the Archives
Posted on September 20, 2016
New job positions have opened up in the State Archives. Go to http://ags.hawaii.gov/archives/job-opportunities-at-the-archives/ for more information.
---
Limited Access to Digital Collections and Library & Map Catalog starting 3/21/2016
Posted on March 16, 2016, last updated April 1, 2016
The Hawaii State Archives Digital Collections and Library & Map Catalog will be undergoing temporary system upgrades starting Monday, March 21 at 4:00 p.m. Access to these services are available on-site on the State Archives' public computers. We thank you for your patience.
The Photograph Collection is available for viewing online as of April 1, 2016. Please contact the State Archives for further assistance.
---
Research Our Records
Managing Government Records
Hawaii Digital Archives Initiative
News