Hawai`i State Archives
Archives Announcements:
Closed in Observance of Independence Day
Posted on June 28, 2017
Aloha! The Hawaii State Archives will be closed this coming Tuesday, July 4, 2017 in observance of Independence Day. We will resume normal business hours on Wednesday, July 5, 2017.
---
Digital Collections and Library & Map Catalog Update
Updated on February 27, 2017
The on-site access to Library & Map Catalog is temporarily down, please see Reference Desk staff for assistance.
The Digital Collections page is now located at: http://digitalcollections.hawaii.gov/greenstone3/library. Please update your bookmarks accordingly. All of the collections has been migrated over to the new server with the exception of Vital Statistics, Maui. We are currently working to bring that online. Please contact the State Archives for further assistance and/or questions.
---
Hawaii State Archives, Archives Month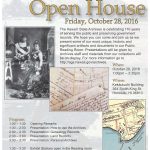 Posted on October 31, 2016
For news footage of the Open House event, go to: https://ags.hawaii.gov/archives/archives-in-the-news/.
October is American Archives Month. Learn more about American Archives Month and what the Hawaii State Archives is doing: http://ags.hawaii.gov/archives/archives-in-the-news/archives-month-2016
---
Research Our Records
Library and Map Catalog (Temporarily offline, see above announcement)
Research Aides:
Other Resources:
Managing Government Records
Hawaii Digital Archives Initiative
News