Hawai`i State Archives
Archives Announcements:
Limited Access to Digital Collections and Library & Map Catalog; Update 1/19/2017
Posted on March 16, 2016, last updated January 19, 2017
The Hawaii State Archives Digital Collections and Library & Map Catalog will be undergoing temporary system upgrades starting Monday, March 21 at 4:00 p.m. Access to these services are available on-site on the State Archives' public computers. We thank you for your patience.
4/1/2016, The Photograph Collection is available for viewing online.
1/19/2017, The new Digital Collections page is located at: http://digitalcollections.hawaii.gov/greenstone3/library. Not all of the collections have been transferred as of yet. Please contact the State Archives for further assistance.
---
Hawaii State Archives, Archives Month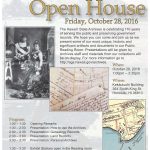 Posted on October 31, 2016
For news footage of the Open House event, go to: https://ags.hawaii.gov/archives/archives-in-the-news/.
October is American Archives Month. Learn more about American Archives Month and what the Hawaii State Archives is doing: http://ags.hawaii.gov/archives/archives-in-the-news/archives-month-2016
---
Research Our Records
Managing Government Records
Hawaii Digital Archives Initiative
News