Hawaii State Digital Archives: A Work in Progress
Hawaii State Archives has been awarded a National Historical Publications and Records Commission grant to establish a plan for a digital archives.  The project commenced on September 8, 2010 with a presentation about Digital Archiving followed by a survey launch on October 13, 2010.
Project Summary (PDF)
---
Project Activities:
Digital Archives Update, October 10, 2014

Download a copy of the powerpoint presentation (PDF)
On October 10, 2014, Electronic Records Day, Hawaii State Archives gave an update on the digital archives project. Digital Archives staff went over the process for sending records to the Digital Archives and included information on:
How the development of Hawaii's first Digital Archives is progressing and a sneak preview of the inner workings of the archival system
An overview of the transfer process and demo of Kukini the new custom built transfer tool
Discussion and demo of the quality assurance and metadata extraction processes
What state agencies can do to help us and how agencies can start prepping your records for transfer to the Digital Archives
---
Digital Archives Update, April 3, 2013

An update on the status of the Hawaii State Digital Archives project. For the past six months, we have been hard at work designing the functional operation of the system and configuring the server and storage. We have brought on-board two systems developers, our consultant, and interns to help us build the system.
This update provides an overview of the proposed system operation, the transfer mechanisms being designed for state agencies, and the timetable for the next two years.
---
Master Plan, issued March 2012
Hawaii Digital Archives Master Plan (PDF)
---
Digital Archives Project Presentation, February 2012
Presentation to government agencies
Downloads:
Presentation to genealogical and historical societies, and information professionals
Downloads:
---
Digital Archives Project Update, June 2011
Digital Archives Project Update, June 2011 (MOV)
(Use QuickTime to view presentation)
---
Records Management Training, December 2010
ABCs of Records Management, Achieving Basic Control
---
The Survey, October 2010
Data gathering, through this survey, was intended to discover how agencies create, use and store electronic records to design a digital archives to work with or enhance the current business processes. The project consultant analyzed the resulting data and used the results to design the digital archives architecture using the Reference Model for Open Archival Information System.
The survey was completed either online or through a fillable form. Survey deadline: October 26, 2010.
---
Digital Archiving: The Challenges and Opportunities, September 2010
Presented by project consultant, Adam Jansen, on Sept. 8, 2010 at the SFCA conference room.
Adam Jansen, former Washington State digital archivist, talked about digital archiving, what it entails, why it is necessary and how it can be developed and sustained. Using examples from his work at Washington State Archives and with other groups, he discussed what works, what to avoid, and how others are approaching the challenge of preserving our nation's electronic government records.
108 employees with electronic recordkeeping duties or who oversee/supervise electronic recordkeeping operations from 13 departments (Attorney General, Budget and Finance, Accounting and General Services, Commerce and Consumer Affairs, Hawaiian Home Lands, Human Resources Development, Labor and Industrial Relations, Land and Natural Resources, Education, Health, Transportation, and Taxation), the Legislature, Judiciary, Office of Hawaiian Affairs, University of Hawaii System, eHawaii, and the City and County of Honolulu attended two sessions of this presentation as part of Introducing the Hawai'i State Digital Archives: A Work in Progress. This event launched our National Historical Publications and Records Commission grant funded project to develop a plan for the Hawaii State Digital Archives.
IMAGES FROM THE PRESENTATIONS: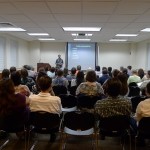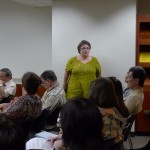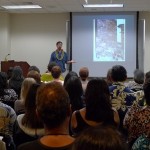 DOWNLOADS: