Archives Month 2021: Songful Voices of the Ancestors
Posted on Oct 7, 2021 in HSA News
The Hawaiʻi State Archives has been one of the only memory institutions in the state to remain open to the public during the pandemic. As our institution searched for ways to serve the public more effectively given all the constraints, we reviewed our own holdings for what ʻike (knowledge) they could impart. One of the incredible records series we came upon was titled Hawaiian Chants and Mele (M432). As we researched these records further and consulted our advisory council of academics and cultural practitioners, we were surprised to learn how many of these important moʻolelo (stories) had been lost to time. We were moved by the lyrical beauty of the words that tugged at our ears and heart with the undulation of the rustling waves and murmuring surf. It is from these writings we drew our inspiration for this yearʻs Archives Month theme – Songful Voices of the Ancestors.
Check our Archives Month 2021 homepage for exhibitions and poster information: https://ags.hawaii.gov/archives/archives-month/archives-month-2021/
Every Thursday in October, we will be releasing curated portions of these amazing works online to share these stories and inspire others during these trying times.
October 7, 2021: Selections from the Theodore Kelsey Manuscript Collection
October 14, 2021: Mele from the Paul Markham Kahn Collection
October 21, 2021: Selections from the Henry Enoka Palenapa Kekahuna Manuscript Collection
October 28, 2021: Hawaiian Chants and Mele Manuscript Collection
October 28, 2021: Chant and Genealogy Book
Malama Akewika 2021: Ka Leo Nahenahe a ka Poʻe Kūpuna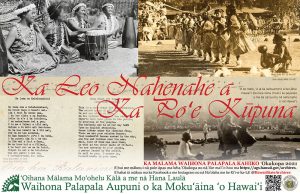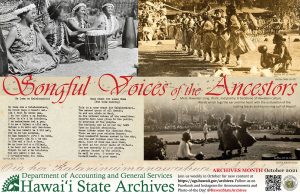 ʻO ka Hale Waihona Palapala Kahiko o ka Mokuʻāina wale nō paha o nā hale waihona ʻike o ka lehulehu ma kēia pae ʻāina kahi e hāmama mau ai ka puka i ke kaiāulu i kēia wā maʻi ahulau. I ko mākou ʻimi ʻana i ʻano kākoʻo no ke kaiāulu me ka pono ma lalo o nā kaohi maʻi, nānā mākou i kā mākou waihona palapala no kona ʻike e kaʻa ai. ʻO kekahi ʻohina kupaianaha hoʻi a mākou i noiʻi ai ʻo ka mea i kapa ʻia Nā Oli me Mele Hawaiʻi (M432). Iā mākou e noiʻi noelo ana i ia mau palapala me ke kūkākūkā pū i kā mākou ʻaha o nā akeakamai me nā loea, pūʻiwa mākou e aʻo mai i ka ʻane nalohia i ke au o nā moʻolelo koʻikoʻi. Naue nui mākou i ka lila uʻi o nā hua ʻōlelo nāna i huki i ka pepeiao a me ka naʻau me nā nehenehe a ʻoē Hawaiʻi. No loko mai o ia mau kākau ʻana i kupu aʻe ka ʻeu no ka poʻomanaʻo o kēia Malama Akewika 2021 o kēia makahiki – Ka Leo Nahenahe a ka Poʻe Kūpuna.
E nānā mai i ka loulou Malama Akewika 2021 no ka ʻike hōʻikeʻike me ka pelaha: https://ags.hawaii.gov/archives/archives-month/archives-month-2021/
I kēlā me kēia Pōʻahā o ʻOkakopa e hoʻolele ʻia ana kekahi mau māhele o kēia mau hana kupaianaha e laha ai kēia mau moʻolelo a e hoʻēu ai iā haʻi ma kēia wā kūpilikiʻi.
ʻOkakopa 7, 2021: Selections from the Theodore Kelsey Manuscript Collection
ʻOkakopa 14, 2021: Mele from the Paul Markham Kahn Collection
October 21, 2021: Selections from the Henry Enoka Palenapa Kekahuna Manuscript Collection
October 28, 2021: Hawaiian Chants and Mele Manuscript Collection
October 28, 2021: Chant and Genealogy Book