KEONI ANA
"By command of the King, I have the honor to announce to you, that His Majesty has been graciously pleased to appoint His Excellency the late Governor of Maui, Keoni Ana (John Young) to be Premier of the Kingdom, under the style of His Highness."
June 12, 1845 by Robert C. Wyllie, Minister of Foreign Relations, to Foreign
representatives in Honolulu. [Foreign Office & Executive letterbooks, v. 8]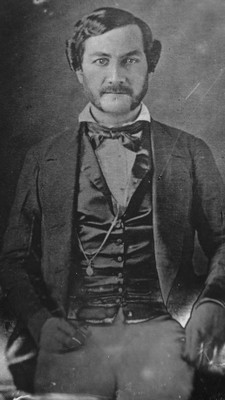 Keoni Ana was appointed Kuhina Nui by Kamehameha III because Victoria Kamāmalu, the designated successor of her mother Kīna'u, was still a minor.
Keoni Ana was a son of John Young, the English sailor who became a trusted adviser to Kamehameha I, and Young's wife Ka'ōanā'eha.  Keoni Ana held several government positions, including service in the House of Nobles and Privy Council, as a Supreme Court justice, and as chamberlain of Kamehameha III's household.
Soon after Keoni Ana became Kuhina Nui in June 1845, the Legislative Assembly passed several acts that organized the executive ministries and departments of the government.  This legislation provided that the Kuhina Nui serve dually as Minister of the Interior.  More far-reaching was the creation of the Board of Commissioners to Quiet Land Titles, which would forever change the system of land tenure in Hawai'i.  Keoni Ana served on a committee to assist the king and chiefs in defining their rights and interests in the lands within the kingdom.
As a very close friend and ally of the Kauikeaouli, Keoni Ana recognized that the Kuhina Nui's authority challenged the King's prestige and power.  Until his death in 1857, Keoni Ana supported Kamehameha III and IV in their attempt to abolish the office.
Term of office:
June 10, 1845 – Jan. 16, 1855
Son of:
John Young, Sr. and Ka'ōanā'eha (w)
Husband of:
Julia Alapa'i Kauwā
Chronology:
1812 – Birth of Keoni Ana
1845 – Development of constitutional monarchy
1845 – Board of Commissioners to Quiet Land Titles
1848 – The Great Māhele or Land Division
1857 – Death of Keoni Ana