KEKĀULUOHI
…The authority hitherto possessed by my mother Ka'ahumanu II. Until her decease is now transferred to my other mother (Miriam Kekāuluohi) though Victoria Kamehamalu II is her superior, but still under my direction.

"Furthermore; no documents nor notes, referable to government, after this date, which have not my own signature, and also that of Miriam Kekāuluohi at the bottom of said writing will be acknowledged as government papers."
Honolulu, June 8th, 1839 by Kamehameha III.
[Proclamation: Ke Kukala Ana a Ke Alii, June 8, 1839]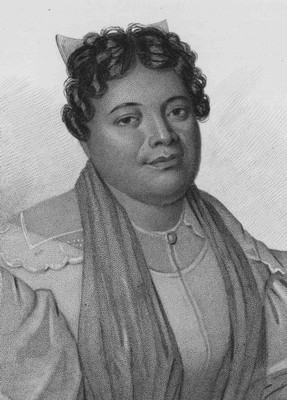 Kekāuluohi succeeded her half-sister Kīna'u as Kuhina Nui. Initially, she was considered something of a "place-holder" for Kīna'u's infant daughter Victoria Kamāmalu, who would later assume the office.
Kekāuluohi was a co-signer with Kamehameha III of Hawai'i's first Constitution in 1840, which provided for an elected representative body, a first step toward the common people gaining political power.  The constitution also codified for the first time, the responsibilities and authority of the Kuhina Nui.
Other important events during Kekāuluohi's tenure were the threats to Hawaiian sovereignty by the French and English.  Soon after assuming her office in 1839, the French threatened war if Kamehameha III did not provide special privileges to the Catholic missionaries, repeal liquor laws, and grant generous concessions to French citizens in Hawai'i.  Then, in 1843, the infamous Charlton land claim resulted in the temporary loss of Hawaiian sovereignty when Lord George Paulet intervened and took possession of the Hawaiian Islands on behalf of the King of England.  Richard Charlton was the British Consul in Honolulu who, in 1840, claimed valuable land based on dubious documentation and authority.
As the pressures of international diplomacy and economic development increased on the Hawaiian kingdom, it was necessary to structure the government for better administrative control.  As her life came to a close, Kekāuluohi appointed Gerrit P. Judd as Minister of the Interior to administer on her behalf.
Term of office:
June 8, 1839 – June 7, 1845
Daughter of:
Kaleimamahū (k) and Kaheiheimālie (w)
Kaleimamahū was a Hawai'i Island chief.  Kaheiheimālie was a  daughter of Ke'eaumoku and Nāmāhana, sister of Ka'ahumanu, mother of Kīna'u.
Wife of: 
Charles Kana'ina  (ca.1821 – 1845) – ca. 1821 Kamehameha II gave Kekāuluohi to his friend Charles Kana'ina, who was a chief of low rank.
Mother of:
William Charles Lunalilo (1834-1874) elected king in 1873, died 1874.
Styled:        Ka'ahumanu III
Chronology:
1794 – Birth of Kekāuluohi
1839 – Declaration of Rights and Civil Code
1839 – Conflict with France over religious tolerance, liquor laws, rights of French citizens – threat to Hawaiian sovereignty
1840 – First Constitution institutes representative government, supreme court
1843, Feb. 25 – Lord George Paulet takes possession of the Kingdom of Hawai'i for the British crown
1843, July 31 – Admiral Thomas restores Hawaiian sovereignty
1845, June 7 –  Death of Kekāuluohi in Honolulu