Vital Statistics
Introduction
Although reports of vital statistics were required by law, many of the reports were not turned in and vital statistics were seriously under reported.  This incomplete record keeping, especially in the early years, is reflected in the Archives Vital Statistics Collection.
There are two sets of indexes to the collection: records from 1832-1910 and 1911-1929.  Both sets are arranged by island and there under alphabetically by name.  These are located in the Archives reference room.   You can also access the index through Ulukau, refer to Getting Started for an example of the index.
Records are being continually scanned and added to our Vital Statistics Collection in the Digital Collections.  Here you can search by name and view the document as a PDF file.
Description
The Vital Statistics Collection Includes:
reports of births, marriages, and deaths
marriage licenses
records of issue of license to marry
license stubs
marriage records books
marriage record stubs
reports of licenses granted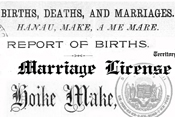 There are a few birth and death records, which are not certificates, but a part of reports made for statistical purposes.  Also marriage records before 1896 do not include the bride and groom's parents.
The Vital Statistics Collection was artificially created by the Archives and indexes to the collection use the numbering system assigned by the Archives.  Records are arranged by island and designated by a letter:
Letter
Island
Year
H
K
M
Mo
N
O
Hawaii
Kauai
Maui
Molokai
Niihau
Oahu
1832-1929
1826-1929
1842-1929
1850-1929
1849-1856
1832-1929
Further information about the Vital Statistics collection and records