Naturalization Records
Introduction

Following the establishment of a constitutional government, authority to naturalize foreign citizens was vested in the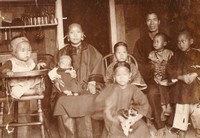 Minister of the Interior by the Act to Organized the Executive Departments in 1846, but Oaths of Allegiance to the government of the Sandwich Islands are recorded as early as 1838.
An index to the Naturalization records to Hawaii date from 1838 to 1899.
To inquire about other immigration records and genealogy, you can email [email protected] or view their website at www.uscis.gov.
Descripton
The naturalization records generally contain:
applicant's name
place and country of origin
current place of residence
date of issue
Index to records include:
Certificates of Nationality
Register of Oaths of Allegiance
Oaths of Allegiance
Naturalization Record Books
Applications for Naturalization
Correspondence about Naturalization
More information about the Naturalization Records.
Naturalization Files are accessible via our Digital Archives, Department of Interior page. Check the Index, arranged by name, to find the book and page number.