Proof of Vaccination or Negative Test Result of COVID-19 Required at the Hawaiʻi State Archives
Posted on Sep 11, 2021 in HSA News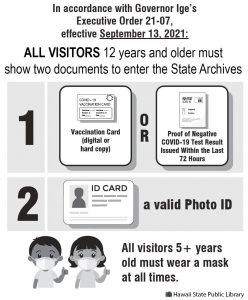 As mandated by *Executive Order No.21-07 related to access to State Property, the Public Archives will require all our visitors to show proof that they are fully vaccinated, or a negative test result of a COVID-19 test taken 72 hours prior to their visit to our facility. This requirement along with the rules and restrictions we have in place will be in effect for entry to our facility.
Our number one priority has always been the safety of our staff and the public, and so hopefully this will help to curb the devastating effects of the pandemic to our State, communities, and our ʻohana. Therefore, on **September 14, 2021 when we are open to the public please see the following rules and restrictions:
Everyone the age of 12 and older will be required to show proof that they are fully vaccinated or a negative test result

Official documentation of vaccination status – digital or hard copy accepted (fully vaccinated = 14 days after the 2-dose vaccine or 1 dose of Johnson & Johnson)
Negative test result of a COVID-19 test (within 72 hours prior to entry)

Everyone will be required to show a valid government issued photo to verify vaccination status, as well as to register and check-in
Everyone will be required to properly wear a face covering (the mouth and nose are always covered) while in the facility
A temperature check will be done before entry to the facility, and if your temperature is too high you will be asked to leave
All public will maintain physical distancing of 6 feet from one another and from staff
There is a maximum of 6 researchers allowed at any time during our public hours
If there is a waiting list (more than 6 people), your research time in the archives is limited to 2 hours from the time you checked in
If you are traveling to Oʻahu from the neighbor island or out-of-state, please email us at

[email protected]

at least 2 business days before your confirmed arrival (please note any travel restrictions must be followed)
Please visit https://ags.hawaii.gov/archives for more information and updates
Mahalo for your support and cooperation!
*For the full text of the Executive Order, please visit the following link: https://governor.hawaii.gov/wp-content/uploads/2021/09/2109041-ATG_Executive-Order-No.-21-07-distribution-signed.pdf
**NOTE: In order to provide access to the Public Research Room, the Archives is reliant upon the ʻIolani Palace State Monument being open to the public during regular business hours. At this time, DLNR and the Friends of ʻIolani Palace have designated Tuesday through Fridays as the days the park will be open to the public.