Presentation: Saving Collections for the Future
Posted on Mar 10, 2020 in HSA News
UPDATED MARCH 17, 2020*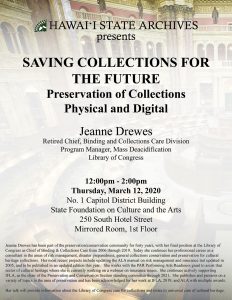 The Hawaiʻi State Archives is very excited and fortunate to present a free informational lecture by Jeanne Drewes. Ms. Drewes has been part of the preservation/conservation community for forty years, with her final position at the Library of Congress as Chief of Binding & Collections Care from 2006 through 2019. Today she continues her professional career as a consultant in the areas of risk management, disaster preparedness, general collections conservation and preservation for cultural heritage collections. Her most recent projects include updating the ALA manual on risk management and insurance last updated in 2005, and to be published in an updated edition this year. She works with the PAR Performing Arts Readiness grant to assist that sector of cultural heritage where she is currently working on a webinar on insurance issues. She continues actively supporting IFLA, as the chair of the Preservation and Conservation Section standing committee through 2021. She publishes and presents on a variety of topics in the area of preservation and has been acknowledged for her work at IFLA, 2019, and ALA with multiple awards.
Her talk will provide information about the Library of Congress care for collections and relate to universal care of cultural heritage. Please join us for what will surely be an informative and engaging presentation that is free and open to the public! An event that offers a rare professional development opportunity to learn from an industry expert whose experience and knowledge is reflected by her many years working within the preservation and conservation community.
| | |
| --- | --- |
| WHAT: | Saving Collections for the Future: Preservation of Collections, Physical and Digital |
| WHEN: | Thursday, March 12, 2020, 12:00pm – 2:00pm |
| WHERE: | First floor, Mirrored Room at the No. 1 Capitol District Building (State Foundation on Culture and the Arts), 250 South Hotel Street, Honolulu, Hawaiʻi 96813 |
For directions and parking information, please see the following link: Hawaiʻi State Foundation on Culture and the Arts – location and parking information.
Please see the attached flyer for more information and feel free to distribute and/or share with other organizations and colleagues. The PDF can be downloaded here.
---
*UPDATED MARCH 17, 2020
Message from presenter Jeanne Drewes:
Thank you for attending the Hawaii State Archives talk on Thursday March 12. I was so honored that so many people came. I wanted to follow up with online resources that may be useful to you. I provided additional resources that may also be helpful as you continue to preserve the vital cultural heritage of Hawaii. Thank you for all you do!

LIBRARY OF CONGRESS https://www.loc.gov/preservation/
NATIONAL ARCHIVES https://www.archives.gov/preservation
Guidelines for Setting Up a Digital Unification Project https://www.ifla.org/publications/node/92435
UNESCO PERSIST, a UNESCO-programme under the Memory of the World-banner, aims to create a platform to support the dialogue among parties in order to enhance the continuity of content. https://unescopersist.org/about/