King Kalākaua Photograph Exhibition now Online
Posted on Nov 16, 2019 in HSA News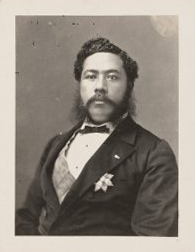 In celebration of Mōʻī (King) David Laʻamea Kamananakapuʻu Mahinulani Nalōiaʻehuokalani Lumialani Kalākaua's birthday on this day in 1836, the Hawaiʻi State Archives has digitized all of His Majesty's photos from the photo files in the General Photographic Collection at the Public Archives.
To commemorate his 183rd birthday, we are very excited to present these high resolution scans available digitally for the first time. These, and other digital exhibitions, can be found at our online exhibitions web page here: https://ags.hawaii.gov/archives/online-exhibitions/
As always, the historic photographs found online at the State Archives can be accessed free of charge – print them, enlarge them, include them in school and business reports*. Enjoy the rich visual and documentary history of Hawaiʻi preserved by the Hawaiʻi State Archives.
*To aid others in locating the images, please see our suggested citation format: https://ags.hawaii.gov/archives/citing-sources-from-the-hawaii-state-archives/