Jonah Kūhiō Kalanianaʻole Exhibition
Posted on Mar 26, 2021 in HSA News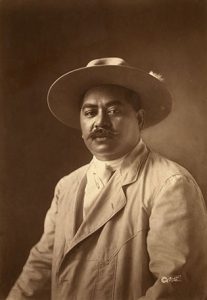 In celebration of Jonah Kūhiō Kalanianaʻoleʻs birthday on this day in 1871, the Hawaiʻi State Archives presents a new online exhibition featuring digitized photographs and records from our collections.
The records in this digital exhibition contain links to the 1949 Joint Resolution establishing Kūhiō Day as a holiday, Kūhiō's 1895 Court Martial, photographs, and Memorial Addresses held at the Public Archives. These, and other digital exhibitions, can be found at our online exhibitions web page here: https://ags.hawaii.gov/archives/online-exhibitions/
As always, the historic photographs found online at the State Archives can be accessed free of charge – print them, enlarge them, include them in school and business reports*. Enjoy the rich visual and documentary history of Hawaiʻi preserved by the Hawaiʻi State Archives.
*To aid others in locating the images, please see our suggested citation format: https://ags.hawaii.gov/archives/citing-sources-from-the-hawaii-state-archives/
Hōʻikeʻike Jonah Kūhiō Kalanianaʻole
No ka hoʻolauleʻa ʻana o kō Jonah Kūhiō Kalanianaʻole lā hānau ma kēia lā i 1871, ke hōʻikeʻike aku nei mākou ʻo ka Waihona Palapala Aupuni o ka Mokuʻāina ʻo Hawaiʻi i kekahi mau kiʻi i paʻi uila ʻia a me kekahi palapala no loko mai o ko mākou mau ʻohina.
ʻO nā palapala ma kēia loulou hōʻikeʻike pūnaewele he pili nō i ka ʻŌlelo Hoʻoholo Hui o 1949 e kūkulu ʻana iā Lā Kūhiō he lā kūlaia, kō Kūhiō hoʻāhewa ʻia e ka 1895 ʻAha Hoʻokolokolo Koa, nā kiʻi, a me nā Haʻi ʻŌlelo Hoʻomanaʻo e mālama ʻia nei ma ia Hale Waihona Palapala Kahiko. ʻO nēia, a pēlā pū kekahi hōʻikeʻike uila, aia hoʻi i kēia loulou pūnaewele maʻaneʻi iho: https://ags.hawaii.gov/archives/online-exhibitions/
E like me ka maʻa mau, mālama ʻia nā kiʻi moʻoʻōlelo ma ka Waihona Palapala Aupuni me ka manuahi – e paʻi nō, e hoʻonui nō, a e hoʻokomo nō i nā hōʻike kula a me nā ʻoihana*. E nānea nō i ka waiwai noʻeau a ka maka me nā moʻoʻōlelo palapala o Hawaiʻi i mālama ʻia ma ka Waihona Palapala Kahiko o ke Aupuni.
*He kākoʻo paha kēia no ka noiʻi ʻana i nā kiʻi, ke koi nei mākou iā ʻoe e kuhia aku pēia: https://ags.hawaii.gov/archives/citing-sources-from-the-hawaii-state-archives/