Archives Month 2020: Celebrating Hawaiian Music
Posted on Oct 1, 2020 in HSA News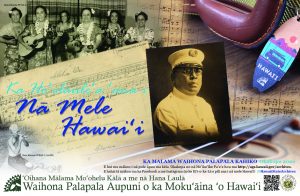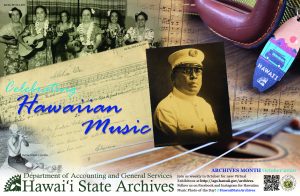 In celebration of the 100th anniversary of Mekia Kealakai's return to Hawaiʻi after spending over 20 years of spreading Hawaiian music aboard, we are proud to host a series of virtual exhibitions in honor of the pioneering Hawaiian musicians and composers that have touched so many with their unique style of music. Please join us daily on Facebook ​and Instagram (@HawaiiStateArchives) as we feature a special music themed photo from our collection (with special selections from surprise guests), and a new online exhibition drawn from our archival holdings posted every week in October. We hope that you will enjoy these exhibitions as much as we enjoyed selecting them. Highlights include: hundreds of historic music related photos, music from Queen Liliuokalaniʻs collection, Johnny Wilsonʻs letters and day books, original musical compositions of Bandmaster Henri Berger, and rare sheet music from the Paul Markham Kahn Collection.
Ka Malama Waihona Palapala Kahiko 2020: Ka Hoʻolauleʻa ʻana i nā Mele Hawaiʻi
No ka hoʻolauleʻa ʻana i ka piha makahiki he 100 o ko Mekia Kealakaʻi hoʻi ʻana i Hawaiʻi ma hope o kona hoʻokani ʻana i nā mele Hawaiʻi ma nā ʻāina ʻē no nā makahiki he 20 ā keu, haʻaheo mākou e hōʻike i nā hōʻikeʻike paʻeʻe no ka hoʻohanohano ʻana i nā paionia hoʻokani pila a me nā haku mele Hawaiʻi i hōʻoluʻolu i ka poʻe me ko lākou mau mele laha ʻole. E ʻoluʻolu, e hui me mākou i nā lā āpau ma Facebook a me Instagram no ko mākou hōʻike ʻana i nā kiʻi mele kūikawā mai ko mākou ʻohina (me nā ʻohi kūikawā ʻana o nā malihini kipa pūʻiwa) a me ka hōʻikeʻike paʻeʻe hou (mai ko mākou mau ʻohina) e hoʻolaha ʻia ana i nā pule āpau ma ʻOkakopa. Manaʻolana mākou e ʻoluʻolu ana ʻoukou i kēia mau hōʻikeʻike no ka mea ʻoluʻolu mākou i ka ʻohi ʻana iā lākou. Eia nā mea nui: he lau nā kiʻi mele moʻolelo, nā mele mai ka ʻohina a ka Mōʻī Wahine ʻo Liliʻuokalani, nā leka a me nā puke pilawaiwai a Johnny Wilson, nā mele kumu a ke Alakaʻi Pana ʻo Henri Berger, a me nā palapala mele kakaʻikahi mai ka ʻOhina a Paul Markham Kahn.
Check our Archives Month 2020 homepage for exhibitions and poster information: https://ags.hawaii.gov/archives/archives-month/archives-month-2020/