50th Anniversary of Apollo 11 and Man's First Landing on the Moon
Posted on Jul 1, 2019 in HSA News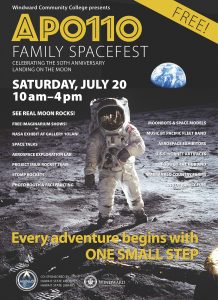 Join us for Apollo11 Family Spacefest at Windward Community College on Saturday, July 20 from 10:00 a.m. to 4:00 p.m., a celebration of the 50th anniversary of Apollo11 and man's first landing on the moon.
The special one-day-only free event features free Imaginarium shows, moon rocks and a NASA exhibit at Gallery 'Iolani, special speakers, food, music, aerospace exhibits, Project Imua student rocketeers, and lots of family fun. This event is co-sponsored by Hawai'i State Archives and Hawai'i State Library.
Gallery 'Iolani
Many Small Steps, a 50th anniversary NASA exhibit, outlines the steps that led to the first human landing on the moon, from early space flight to Apollo to the future of space exploration, as well as 3D models of the Apollo spacecraft and other space-related items. The State Archives will provide Apollo 11 and Apollo 17 moon rocks and two Hawaiian flags that were placed on the lunar surface by the Apollo astronauts, brought back to Earth, and gifted to the people of Hawai'i. The Royal Hawaiian Guard will stand honor guard by these artifacts. Open 10 a.m.–4 p.m.

Imaginarium shows (free shows during Spacefest event)
Astronaut – 11 a.m. and 2 pm.
Find out what it takes to be an astronaut! Explore inner and outer space as you experience a rocket launch from an astronaut's point of view and float around the International Space Station in microgravity. Narrated by Ewan McGregor.
Back to the Moon – 12 and 3 p.m.
Beginning in the late 1960s and early 1970s, we see what that era of landers and orbiters taught us about our nearest neighbor. And, who will win the Google Lunar XPRIZE?
We are taken through a successful launch, landing and lunar surface travel, ending with a stunning glimpse of a plausible scenario for our future on the Moon. Narrated by Tim Allen.
Dawn of the Space Age – 1 p.m.
Re-live the excitement of the early days of space exploration, from the launch of the first artificial satellite to the magnificent lunar landings and privately operated space flights. Who were these men and women that took part in these death-defying endeavors? Witness their drive, their passion, and their perseverance to explore.
Students from the Project Imua rocketry program at Windward CC will be on hand to talk about their rocket launching experience and offer bottle rocket launching for kids.
Aerospace-related exhibitors will showcase their activities, including Pearl Harbor Aviation Museum, PISCES, HI-SEAS and Hawaii Space Grant Consortium:
Hawaii Space Grant Consortium, based at UH-Mānoa with affiliate campuses throughout the UH system, supports undergraduate aerospace research projects
Pearl Harbor Aviation Museum provides stewardship of the aviation artifacts from Pearl Harbor's WW II history and educational programs for Hawaii's youth
PISCES (Pacific International Space Center for Exploration Systems) is a stated-funded aerospace agency under DBEDT that promotes the aerospace industry in Hawai'i
HI-SEAS (Hawai'i Space Exploration Analog and Simulation) is a UH-Mānoa project and manages a habitat on Mauna Loa that simulates a crew-based Martian colony
Music will be performed by the Pacific Fleet Band–Harbor Brass Quintet. Food can be purchased from The Hub (Windward CCʻs coffee shop in the library) and Waimānalo Country Farms.
Schedule of Events
| | |
| --- | --- |
| 10 a.m. | Opening Ceremony at Gallery 'Iolani |
| 10 a.m.–4 p.m. | Gallery 'Iolani exhibit Many Small Steps |
| 11 a.m.–4 p.m. | Imaginarium shows (FREE) |
| |      Astronaut –11 a.m. & 2 p.m. |
| |      Back to the Moon – 12 p.m. & 3 p.m. |
| | Dawn of the Space Age – 1 p.m. |
| 11 a.m.–4 p.m. | Space Facepainting |
| 11 a.m.–4 p.m. | Photo booth with space props |
| 11 a.m.–4 p.m. | Aerospace Exploration Lab (hands-on for all ages) |
| 11 a.m.–4 p.m. | Aerospace Exhibitors |
| 11:30 a.m.– noon | Dr. Jeff Taylor, Legacy of Apollo / Hale 'Imiloa 133 |
| 12:30–1 p.m. | Krissie Kellogg, Space Shuttle / Hale 'Imiloa 133 |
| 1:30–2 p.m. | Speaker TBD / Hale 'Imiloa 133 |
For more information about this family-friendly event, contact Imaginarium Manager Dineene O'Connor at 808-235-7350 or [email protected]