KA'AHUMANU
"O heavenly one! I speak to you the commands of your grandfather. Here are the chiefs, here are the people of your ancestors; here are your guns; here are your lands. But we two shall share the rule over the land."
English translation from:   Kamakau, Samuel M.  Ruling chiefs of Hawaii, rev. ed., 1992.
Original text from Ka Nūpepa Kū'oko'a, Sept. 21, 1867.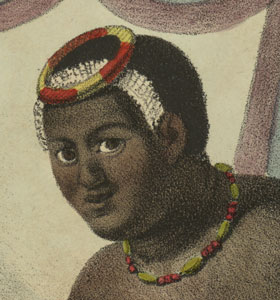 With these words, Ka'ahumanu, the favorite wife of Kamehameha I, created the office of Kuhina Nui.  Endowed with the aura of her late husband, she dominated the governance of the kingdom for thirteen years.  She ruled first with Kamehameha II until his departure for England in 1823 and then as regent for Kauikeaouli (Kamehameha III).  Ka'ahumanu assumed control of the business of government, including authority over land matters, the single most important issue for the Hawaiian nation for many generations to come.
Intelligent and shrewd, Ka'ahumanu instigated the breaking of the ancient kapu system following Kamehameha I's death in 1819.  She converted to Christianity, supported the Protestant missionaries, and proclaimed laws based on Christian principles.  In 1826, she paid the national debt by imposing a tax payable in sandalwood, cash, or woven mats.  Her administrative actions would have far reaching political, social, and cultural consequences for the Hawaiian nation.
Term of Office:
May, 1819 – June 5, 1832
Daughter of:
Ke'eaumoku (k) and Nāmāhana (w)
Ke'eaumoku, a chief of Hawai'i Island, warrior and loyal follower of Kamehameha I, gave his daughter into Kamehameha's care when she was about 10 years old.  She would be his favorite wife. Nāmāhana was a high ranking Maui chiefess.
Wife of:
Kamehameha I (1785-1819)
Kaumuali'i  (1821-1825).  When Kaumuali'i ceded Kaua'i to Liholiho in 1821, he was taken back to O'ahu where Ka'ahumanu took him as her husband.
Keali'iahonui (ca. 1822-1825): a son of Kaumuali'i whom Ka'ahumanu also took as husband.  When she became a Christian, Ka'ahumanu gave up Keali'iahonui to conform with her new religious beliefs.
Chronology:                                                                    
1768? – Birth of Ka'ahumanu
1819, May 8 – Kamehameha I dies at Kailua-Kona, Hawai'i
1819 – 'Ainoa – Abolition of the kapu system
1820 – American Protestant missionaries arrive
1823 – Kamehameha II travels to England
1824 – Kamehameha II and his Queen Kamāmalu die in England
1825 – Ka'ahumanu embraces Christianity and supports the Protestant missionaries
1826 – Payment of the national debt with "sandalwood" tax
1827 – Proclamation of first laws based on Christian principles
1832 – Death of Ka'ahumanu