Archives Month 2016
American Archives Month is celebrated annually in October to raise awareness about the value of archives and the importance of archivists. Governor Ige has proclaimed October 2016 as Archives Month in the State of Hawaii. The Hawaii State Archives created their first American Archives poster focusing on 110 years of public service. On 10/10/2016, Governor proclaimed it to be Electronic Records Day, and digitally signed the proclamation. The first ever digitally signed Proclamation for the State of Hawaii. The Hawaii State Archives will be having an Open House on Friday, October 28. Click on the links below for more information about each event:
Archives Month Proclamation
Hawaii State Archives' American Archives Month 2016 Poster
Electronic Records Day, 10/10/2016
Hawaii State Archives Open House
---
Archives Month Proclamation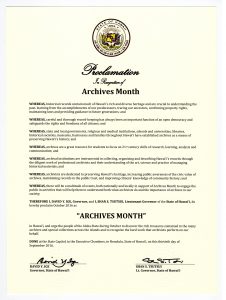 Back to top
---
Hawaii State Archives' American Archives Month 2016 Poster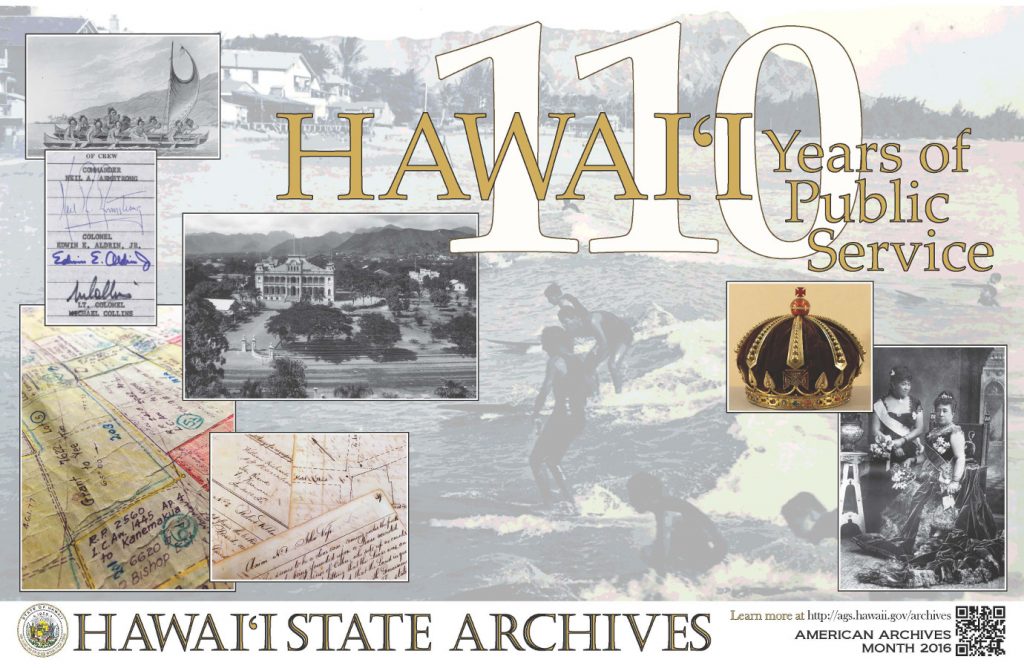 ---
A Canoe of the Sandwich Islands
Call No.: Cook 27 / PP-114-7-010
By artist John Webber
U.S. Customs Declaration form for Apollo 11
Call No.: —
The U.S. Customs declaration form filled out by the crew of the Apollo 11 lunar mission upon their return to U.S. soil at Honolulu Airport on July 24, 1969.
ʻIolani Palace, ca. 1890
Call No.: PP-10-7-010
Online Photograph Collection: https://gallery.hawaii.gov/gallery2/main.php?g2_itemId=18762
The only royal palace to be found in the U.S. The dirt road that runs in front of the palace gates is known as King Street. The Hawaii State Archives would be built off to the palace's left in 1906. The white domed structure seen on the left of this image was originally known as King Kalakaua's coronation pavilion. Commonly known as the ʻIolani Bandstand.
Map of land ownership
Call No.: G4382.O2:3H6:2W3 [192_] [.H38] roll
Map of land ownership mauka (north) of Ala Wai Canal in Waikiki, date unknown. Shows Land Commission Award, Land Court Application and grant information, including names, numbers, square footages. Portion of a larger map, 2 sheets glued together.
Land Commission Awards, Number 1 and 2
Call No.: MFL 88 / 288-1
Land Commission Award No. 1, awarded to John Voss and Land Commission Award No. 2, awarded to Robert Wilday by the Board of Commissioners to Quiet Land Titles in 1846.
Queen Kapiolani & Princess Liliuokalani
Call No.: PP-98-11-008
Online Photograph Collection: https://gallery.hawaii.gov/gallery2/main.php?g2_itemId=3195
Queen Kapiolani, on the right wearing the peacock gown, and Princess Liliuokalani, on the left, attending Queen Victoria's Golden Jubilee in 1887.
King Kalakaua's Crown
Currently on loan to the ʻIolani Palace, on display in the throne room.
Surfers in Waikiki, ca. 1920
Call No.: PP-104-9-013
Shows surfers in Waikiki with Diamond Head in the background.
---
Electronic Records Day, 10/10
Governor Ige proclaims October 10, 2016, otherwise know as 1010, as Electronic Records Day in Hawaii and asks all the people of the land to join him in recognizing the vital importance of electronic records in understanding and sharing the history of our state and to acknowledge the role that the Office of Enterprise Technology Services, Hawai'i State Archives, and other agencies and institutions play in promoting less paper-dependent processes as part of an effective, efficient and open state government.
Link to Proclamation: https://governor.hawaii.gov/wp-content/uploads/2016/10/Proclamation_-Electronic-Records-Day-10_10_16-part-1-signed.pdf
What is Electronic Records Day?
Electronic Records Day is an event sponsored by the Council of State Archivists (CoSA) as part of its State Electronic Records Initiative (SERI) to raise awareness among government agencies, related professional organizations, the general public and other stakeholders about the crucial role electronic records play in our world.
Strategies for Personal Electronic Records
Top 10 Reasons E-Records Need Special Attention
Tips for Government Agencies for Working With E-Records
Managing Electronic Communications in Government
---
Hawaii State Archives Open House, 10/28/2016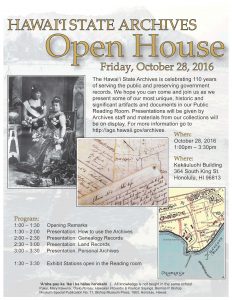 The Hawaiʻi State Archives is celebrating 110 years of serving the public and preserving government records. We hope you can come and join us as we present some of our most unique, historic and significant artifacts and documents in our Public Reading Room. Presentations will be given by Archives staff and materials from our collections will be on display.
Program:
1:00 – 1:30 Opening Remarks
1:30 – 2:00 Presentation: How to use the Archives
2:00 – 2:30 Presentation: Genealogy Records
2:30 – 3:00 Presentation: Land Records
3:00 – 3:30 Presentation: Personal Archives
1:30 – 3:30 Exhibit Stations open in the Reading room
'A'ohe pau ka 'ike i ka hālau ho'okahi | All knowledge is not taught in the same school
Pukui, Mary Kawena. 'Ōlelo No'eau: Hawaiian Proverbs & Poetical Sayings. Bernice P. Bishop Museum Special Publication No. 71, Bishop Museum Press, 1983, Honolulu, Hawaii.