Archives Month 2020
Music is a vibrant, vital, and unique part of Hawaiʻi; so it should come as no surprise that as the Public Archives of Hawaiʻi, some of the earliest documentation of Hawaiian music is amongst the thousands of boxes of government and private papers we preserve. The late 19th century was particularly rich with talented composers and chief among those were the four Royal siblings: David Kalākaua, William Pitt Leleiōhoku, Miriam Likelike, and Liliʻuokalani. Known collectively as "Nā Lani ʻEhā" (The Four Heavenly Ones), these four have been termed "the Patrons of Hawaiian culture" by the modern-day Hawaiian Music Hall of Fame, which describes them as "not only giants in the field of Hawaiian music but form the very cornerstones of subsequent Hawaiian culture and arts." We are very fortunate to have notable works by several of Nā Lani ʻEhā – what we did not know was how significant a collection of Hawaiian music was under our care.
One of the joys of being the public's archives is the diversity of patrons that come into the research room with their fascinating topics of interest. Among our 'regulars' is a noted music historian who was very gracious in sharing his amazing musical discoveries with us – and the timing could not have been more fortuitous. This year marks the 100th anniversary of the return of Mekia Kealakai, one of the greatest and most influential of Hawaii's musicians — and who's birthday also happens to fall in October. As a young man, Mekia was selected out of the reform school to join the Royal Hawaiian Military Band under Bandmaster Henri Berger and would prove himself to be a virtuoso in several instruments. When Mekia refused to swear allegiance to the Republic of Hawaiʻi after the overthrow of the monarchy, he would tour with a Hawaiian band across America and Europe introducing millions to Hawaiian music. By 1916, Hawaiian Music records outsold every other genre of music in America. Mekia would play to crowds so large that he asked Martin guitar to create a special extra-large jumbo steel string guitar so the audience could hear him. This 'Mekia Model' would evolve into the most famous guitar model in history, the Martin Dreadnaught guitar — the instrument of choice of Elvis, Johnny Cash, Bob Marley and the Beatles.
In celebration of Mekia and Hawaiian music we are proud to host a series of virtual exhibitions in honor of the pioneering Hawaiian musicians and composers that have touched so many with their unique style of music. Please join us daily on Facebook (https://www.facebook.com/HawaiiStateArchives/) and Instagram (https://www.instagram.com/hawaiistatearchives/) as we feature a special music themed photo from our collection, with special selections from Honorary Archivists drawn from current Hawaiian Music practitioners, and a new online exhibition drawn from our archival holdings posted every week in October. We hope that you will enjoy these exhibitions as much as we enjoyed selecting them.
Click on the images above to see larger versions of this year's Archives Month poster or click on the link below the thumbnail to download a high-resolution PDF file.
Click on the links below for more information about our Archives Month and to see our virtual exhibitions:
Hawaiʻi State Archives' Archives Month 2020 Poster
Hawaiian Music Online Photograph Exhibition
Selections from the John Henry Wilson Manuscript Collection
Henri Berger Manuscript Collection
Mele from the Paul Markham Kahn Collection
See other Archives Month
Back to homepage
---
Hawaiʻi State Archives' Archives Month 2020 Poster
Mekia Kealakai, former Royal Hawaiian Bandmaster
Download the high-resolution scan of this photograph, PP-74-8a-013.tif and its back here.
Resources at the Archives:
Photograph Collection, Ref No. PP-74-8a-013
---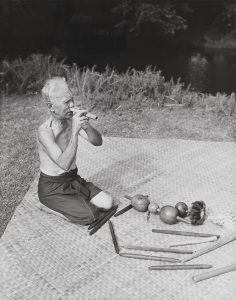 Kahea Beckley
Kahea Beckley demonstrating an ʻohe hano ihu (nose flute) with other musical instruments and hula implements next to him on the ground.
Download the high-resolution scan of this photograph from the Hawaiian Music Online Photograph Exhibition
Resources at the Archives:
Nancy Bannick Collection, Ref No. PPBAC-1-16-004
---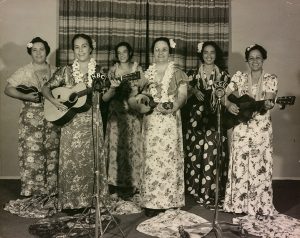 Bina Mossman's Club
From the back of the photograph:
Hawaiians – Hula Dancers, ca. 1950, Bina Mossman's Club
Left to Right: Johanna Wilcox, Lei Collins, Kaipo Napoleon, Bina Mossman, ?, Rachel Voller
Download the high-resolution scan of this photograph from the Hawaiian Music Online Photograph Exhibition
Resources at the Archives:
Photograph Collection, Ref No. PP-33-5-039
---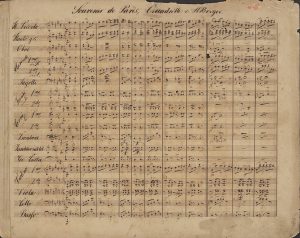 Souvenir de Paris, Quadrille v. HBerger
Resources at the Archives:
M11 Henri Berger Manuscript Collection, Ref No. M11-2-1_001
---
Resources at the Archives:
M93 Queen Lili'uokalani Manuscript Collection, Ref No. M93-4-43